The Winter Art & Antiques Fair at Olympia focuses on an eclectic mix ranging from antique to modern, from the 'traditional to the quirky'.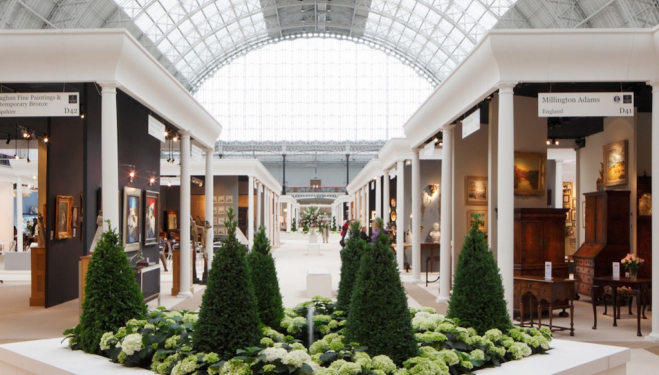 Winter Art & Antiques Fair
At Devas Designs we love mixing the old with the new; contemporary pieces combined with decorative items and furniture which have their own history, to create inspiring, comfortable and stylish interiors. We are regularly asked to source rugs, artworks and paintings as inspiration for an interior project or to create a focus for the clients own treasured collection.
This ethos is at the heart of our interior design and the Fair with its huge array of items from £100 to £1,000,000 should prove a source of inspiration both for interior designers and collectors alike.
With a treasure trove of over 33,000 pieces for sale including art, antiques, furniture, sculpture, jewellery, ceramics, textiles and collectors pieces, all under one roof, we have put together just a small selection from the showcase of over 90 exhibitors.
BOCCARA
As well as specialising in sculpture, Didier Marien of Boccara is a leading expert on modern tapestries, silk rugs and customized rugs.
We particularly love his collection of original tapestries by Sonia Delaunay
BROADBENT GALLERY
With over 20 years in the art business Angus Broadbent stocks and sources an inspirational mix of fine art prints and paintings which fit a variety of interiors from contemporary to traditional.
BABINGTON FINE ART
Babington Fine Art carries a large stock of water-colours, oils and drawings and with prices starting at £100 and also a good range of artworks for under £500 there is no excuse not to put some art on the wall.
OTTOCENTO
Another art dealer with a broad mix of intriguing works of art including old masters, 19th & 20th century paintings, prints and a fabulous collection of vintage posters.
RICHARD HOPPÉ
Richard Hoppé is a dealer and collector with a fascinating collection of glassware and antique tiles. We have picked a selection of his tiles which would work well mixed with plain tiles to add interest to a contemporary bathroom layout or framed to hang alone.
CALLAGHANS OF SHREWSBURY
Callaghans of Shrewsbury specialise in European 19th & 20th century oils and watercolours alongside sculpture, furniture and ceramics. We particularly liked Purple Hills by Rosa Canto, ceramics by Peter Beard and this Arts & Crafts seat.
The Winter Art & Antiques Fair at Olympia runs from 31 October – 5 November 2017.